Philanthropy and Philosophy
A rich company history of supporting education.
Trueblood Family Philanthropy and Philosophy
The Trueblood Family has been involved in Philanthropy since the 1960's. John Trueblood with the excellent example of his Father, began twenty years ago spending considerable time mentoring students at various schools. The vision remains how can education encourage students to be generous and creative human beings. Teachers play such an influential role in this process and remain the hub of the wheel. How we evaluate, develop and educate the "trainer" of our children is so important. All educational stages have their place and John has been involved in each one. From the importance of learning through play and just having fun particularly for pre-K through fourth grade, then transitioning to more directed and complex skills, students change quickly.
John and his Father believe education is the single most effective way to create positive direction and change. The goal in this process; how is open mindedness and flexibility solidly established? Whether through diversity of study or being exposed to different academic disciplines, it is mandatory teachers have an appreciation and understanding of this direction. We make it a point to spend periodic and meaningful time with teachers from K-12 through the graduate and post-graduate level. The early grades provide the foundation and the later grades, the polish. With exposure to interested parties from outside academia, teachers who themselves are open minded can obtain other perspectives then bring these resources into the classroom. This along with networking and participation by outside experts is a great opportunity to "shorten the learning curve" for students touched by this experience.
Our observation has been with the growing need for private capital being sought by both public and private institutions, the opportunity for donors to influence and shape the discussion is growing more possible. It requires, however, for donors to get involved. This, in the beginning, can take some effort but ultimately may be structured for maximum results with an efficient use of time. It is completely reasonable for donors to "QC" the process as well as direct their expectation of how philanthropic donations should be deployed. It is not a process of micro management. On the contrary, culling out the institutions, departments, faculty and disciplines that provide, in the donor's estimation, the best "bang for the buck" is reasonable and often times more productive. Essentially, this is a smart and efficient use of the dollars being given. No surprise, if a small amount of focused time is spent in the outset and moderate "check in" thereafter, the value of the philanthropic dollar can be far more effective. Ultimately it boils down, in our observation, to helping shape students with multidimensional ways of operating, some practicality, common sense and finally as my Father so succinctly puts it         "a desire to go out and create something for somebody other than yourself."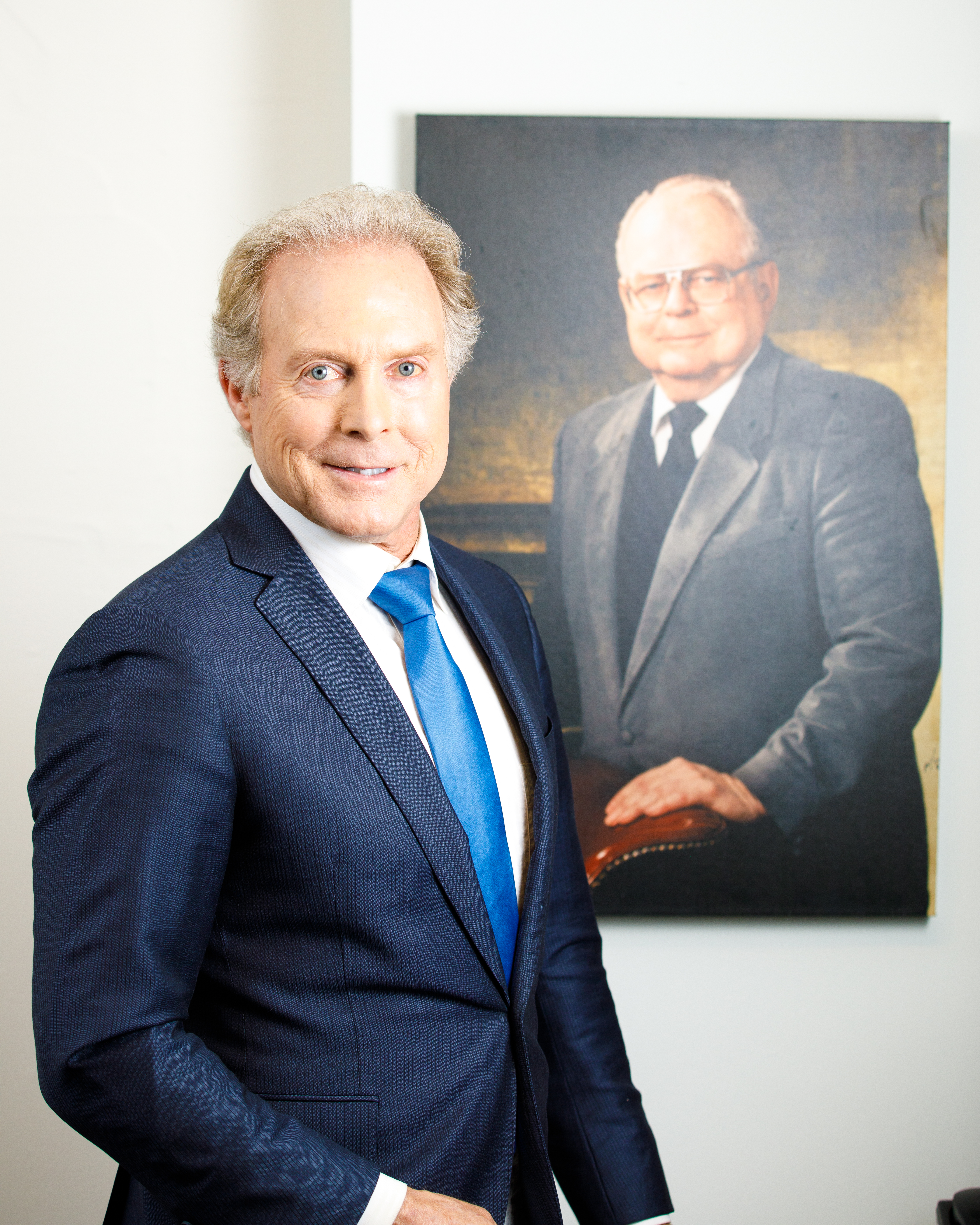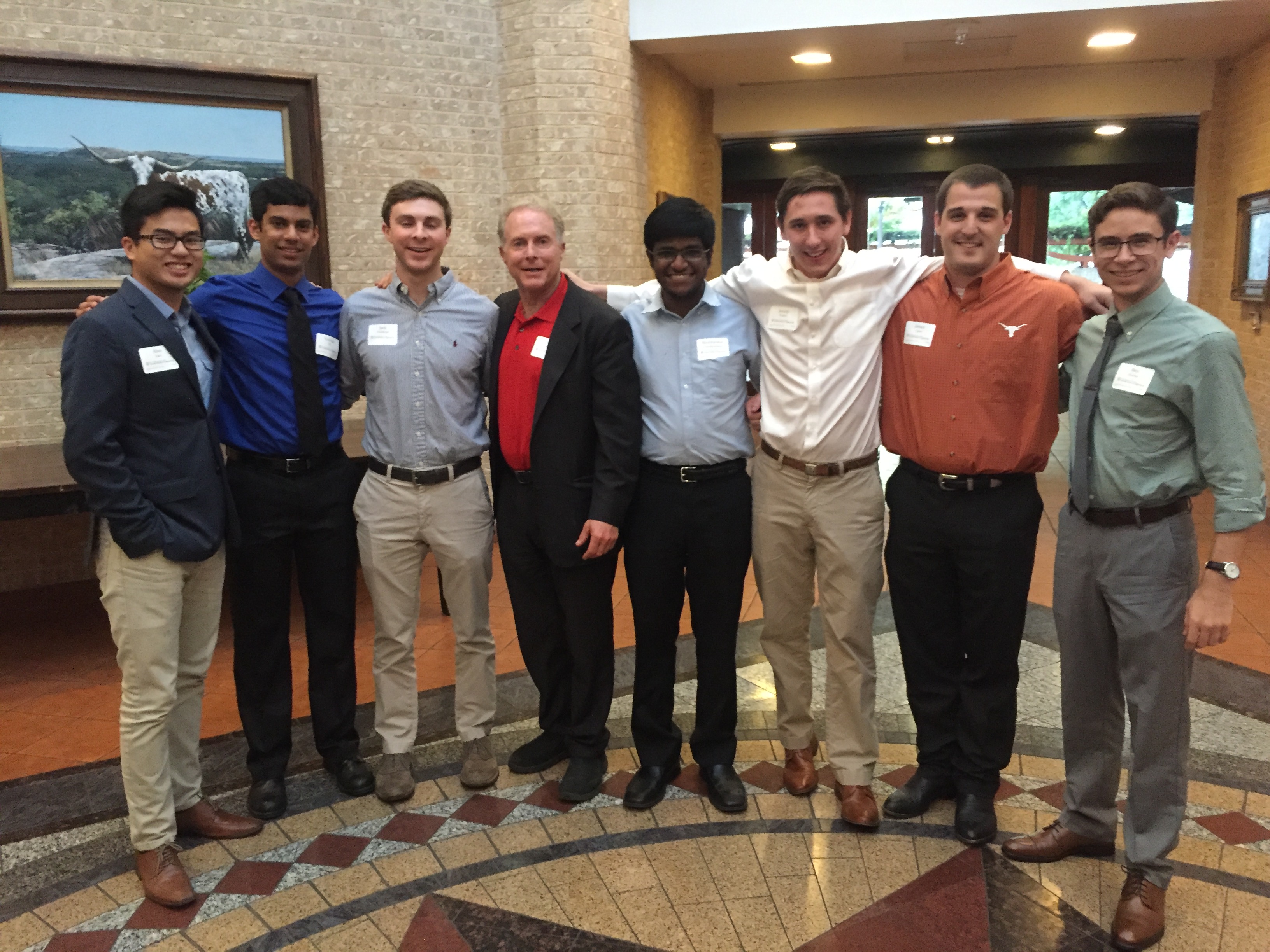 John Trueblood and Son Jack UT Austin with scholarship recipients Harry Trueblood Endownment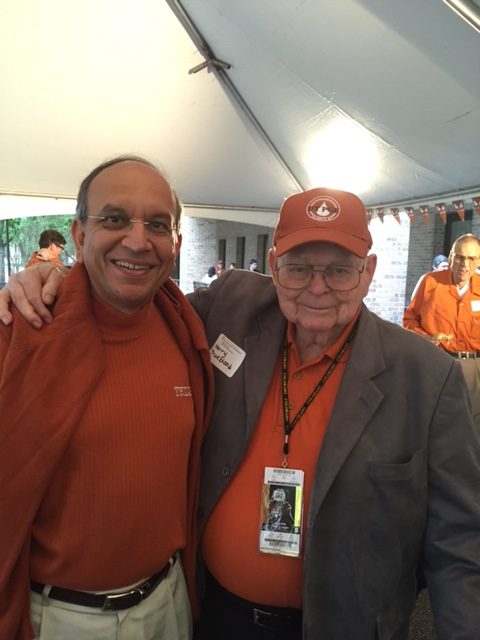 Harry Trueblood and Mukul Sharma two Distinguished Engineers at UT Austin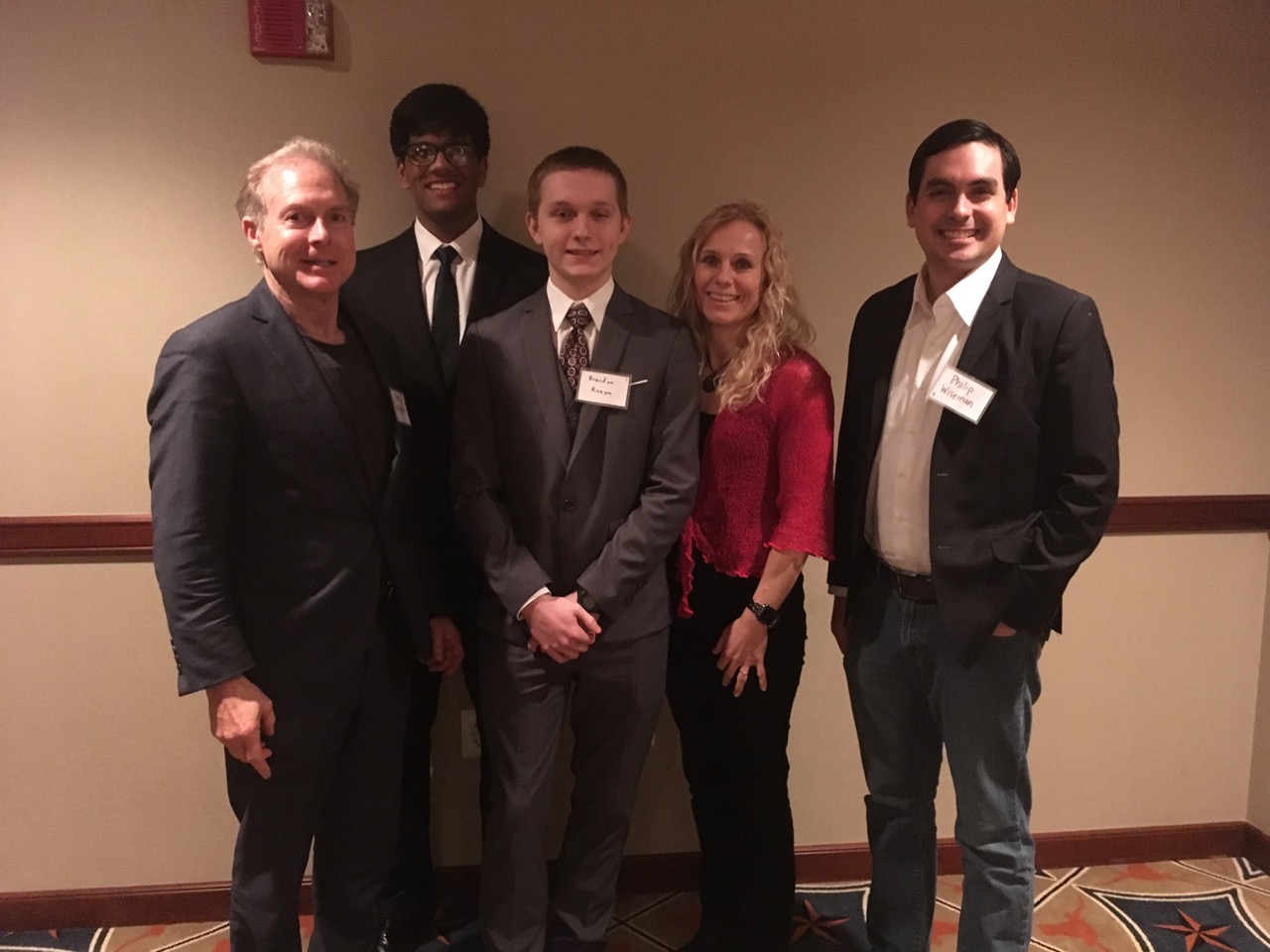 In 2017 John Trueblood's son Jack Trueblood was instrumental in organizing the Energy Olympiad at University of Texas Austin.  The goal of the Olympiad is to encourage Texas High School students to incubate a project which has both a technical and social benefit.  It also has the added benefit of exposing smart, motivated and accomplished High School students to the many opportunities UT Austin has to offer.  John Trueblood participated as a judge in the competition which consisted of 4 High School Teams from various schools throughout Texas and 4 College teams from UT Austin.  The winning High School team won a cash prize of $10K (philanthropically donated) which provided enough initial investment capital to put their idea into action.  In this photo John Trueblood is posing with the winning team, one of the mothers of a contestant and a fellow judge.  The competition was a great success and plans remain to continue it on an annual basis.