Enhanced Oil Recovery Oklahoma and Texas
Anadarko Basin & East Texas enhanced oil recovery operations by Trueblood Resources Inc.
Anadarko Basin Enhanced Oil Recovery Project
In 2007, Trueblood Resources began discussions with Dr. Gary Pope, Dr. Mukul Sharma and Dr. Larry Lake with the University of Texas in Austin Texas on a peculiar producing profile associated with several of our Morrow Formation oil and gas wells near Fargo, OK.
This ultimately led to a joint venture with the 3M Company to field test a fluorochemical treatment that they had developed to enhance the production of gas condensate wells. This test resulted in the treatment of our Mike 5-34 well in the Anadarko Basin and the publishing of a paper, A Field Demonstration of a New Chemical Stimulation Treatment for Fluid-Blocked Gas Wells, with the Society of Petroleum Engineers (SPE).
The Mike Well treatment with 3M Company was very successful although not as durable as expected. This project did, however, result in a long-term collaboration with Dr. Pope on numerous enhanced oil and natural gas recovery projects. The subsequent projects between Dr. Pope and Trueblood Resources on our Anadarko Basin properties were for the most part highly successful and yielded a 10:1 return on our investment.
Our relationship with Dr. Pope has continued to grow and he is now involved with Trueblood Resources on our limestone reservoirs near FT Supply, Oklahoma. Dr. Pope encourages us as we begin each new project, to really think right at the onset about the reservoir dynamics and maximizing oil and natural gas recovery.
In 2018, Dr. Gary Pope won the University of Texas Inventor of the Year Award. Watch this video to learn more about his journey to becoming one of the oil and gas industry's leading innovators.
Ultimate EOR Relationship – Austin, TX Relationship
Through this relationship, Trueblood Resources has also begun developing a business relationship with Ultimate EOR in Austin, Texas with whom Dr. Pope is affiliated. We are reviewing numerous shallow oil reservoirs principally in the lower 48 on which we may employ our oil and gas operating and reservoir expertise. Matt Dean, who runs Ultimate EOR, is very thoughtful in his overall comprehension of the business as well as the technical side of exploiting new oil and gas development opportunities.
Our business collaboration continues to grow and we are very interested in additional joint ventures with other oil and gas operators who may have shallow oil assets on which our expertise may be applied. The combination of solid oil and gas operational skills coupled with the strong technical expertise of Dr. Pope and Matt Dean makes for a powerful formula to maximize oil recovery in a cost effective manner while yielding an excellent ROI.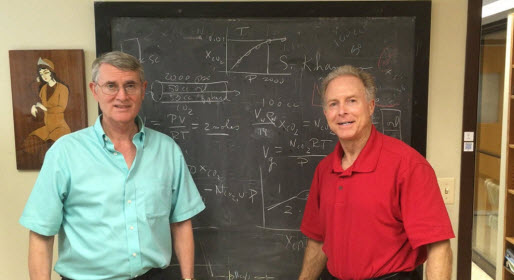 Dr. Gary Pope and John Trueblood at the University of Texas in Austin Texas.
Dr. Pope with landowner Jenny Cunningham on location Days Chapel East TX EOR operation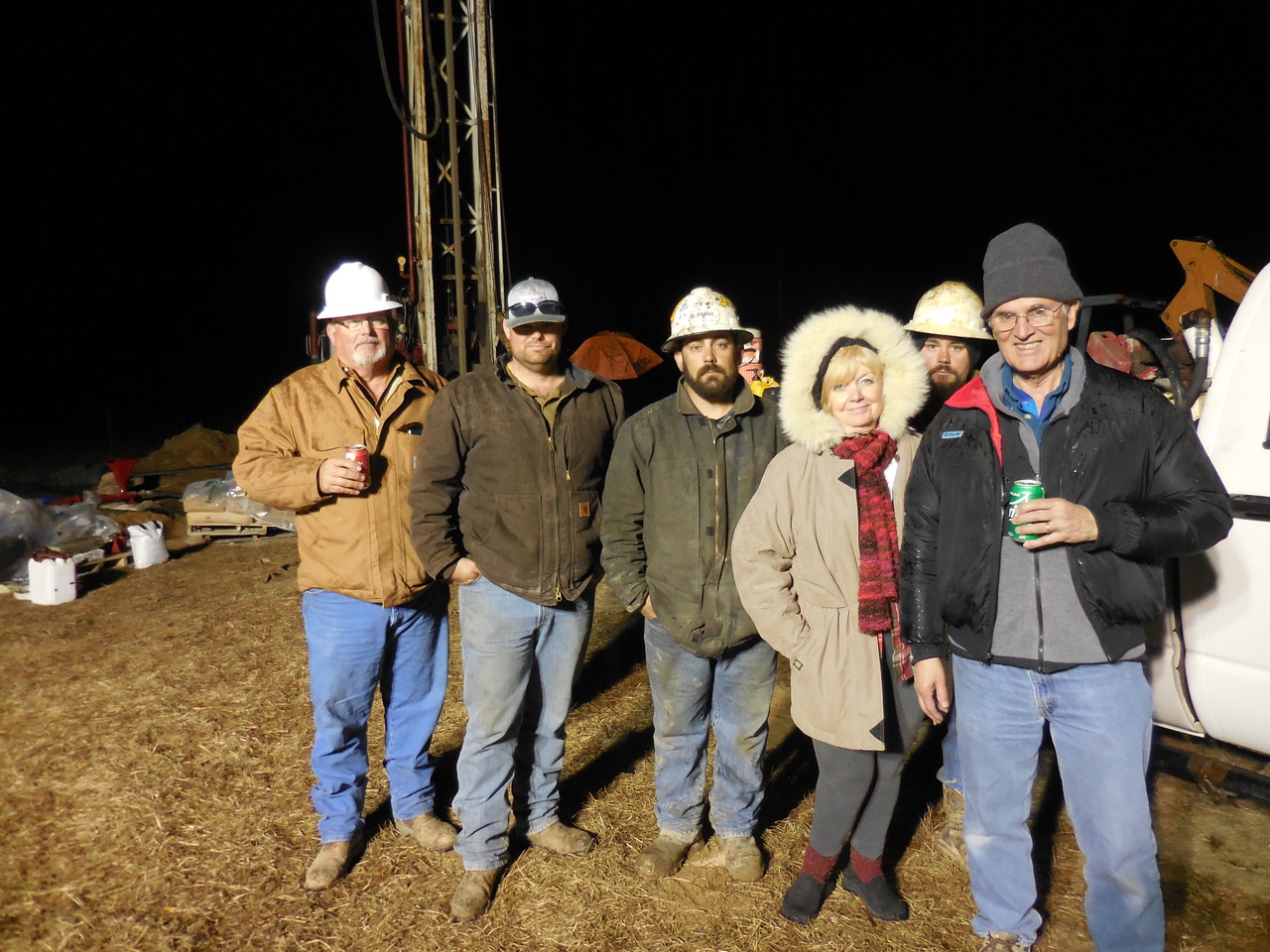 Dr. Pope and Mr. Trueblood have been working together for many years to develop innovative solutions to greatly increase the recovery of oil and natural gas from older reservoirs.  We are in addition designing protocol to enhance the ultimate recovery of oil and gas reserves from newly developed reservoirs applying our technical evaluations to actual field operations and development techniques.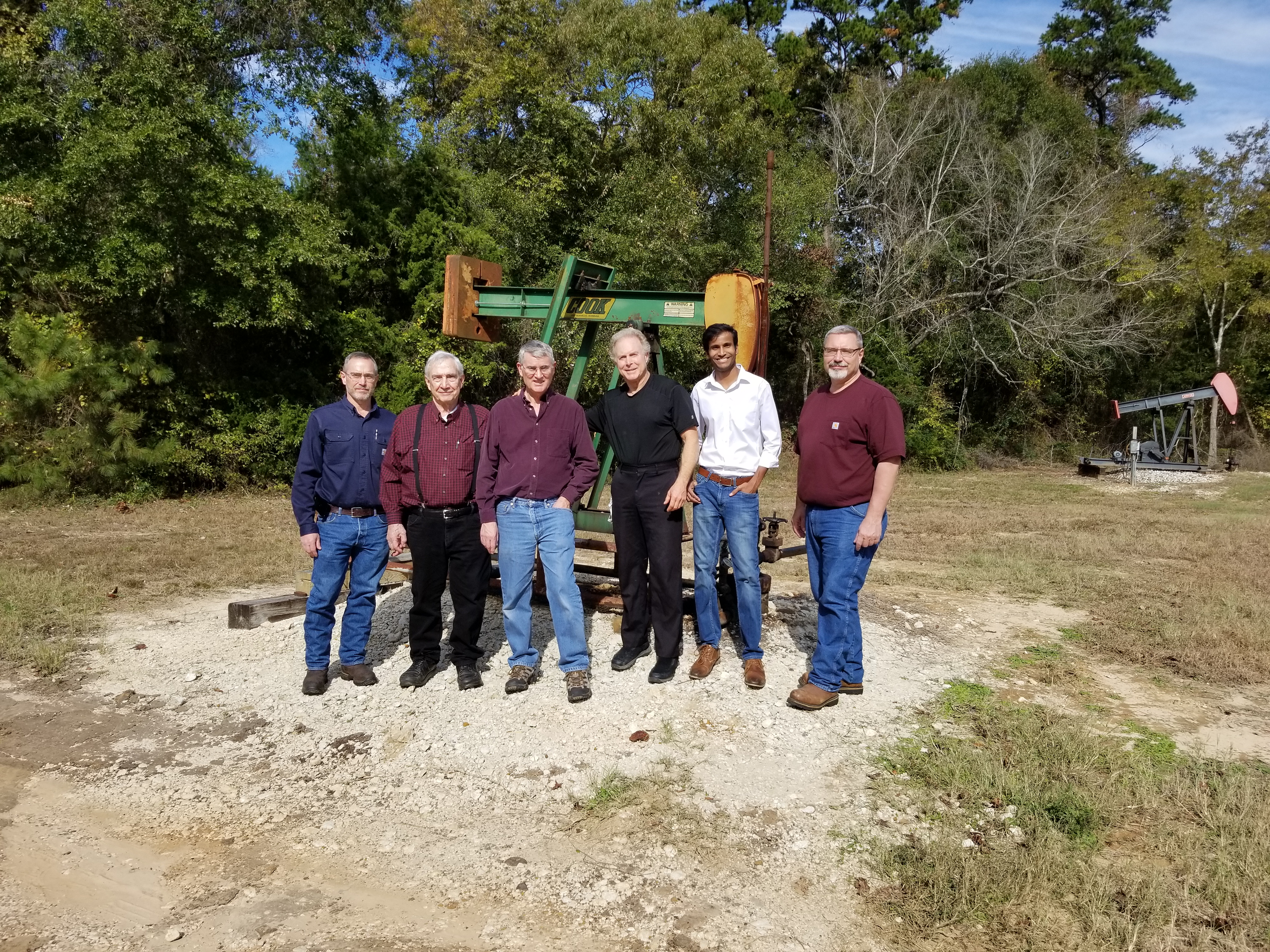 Dr. Gary Pope and John Trueblood and our EOR Team on location in Slocum, TX.  Dr. Pope and Mr. Trueblood have identified several EOR Projects in Oklahoma and Texas.  One of these projects which is located in the East Texas Basin in now underway.  Trueblood Resources at the direction of our EOR Team will be employing several different EOR technologies to develop the highly viscous oil from under this property.  One of the EOR technologies may include polymer flooding in conjunction with our Finish Polymer Supplier www.kemira.com Kemira Global
3M Well Completion Renniger Frac 3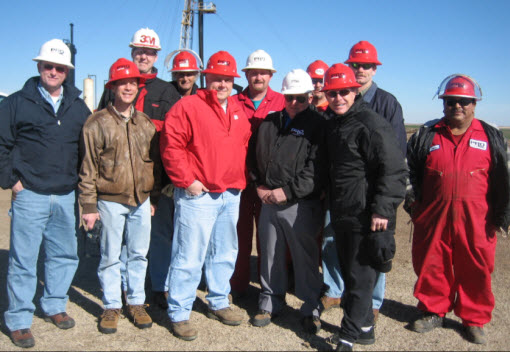 Mike Well Ellis County, Oklahoma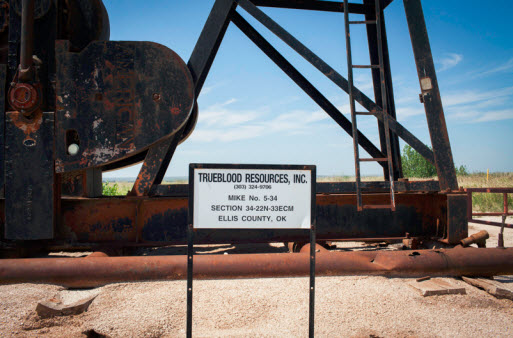 John Trueblood has been associated with Dr. Gary Pope, at University of Texas in Austin, TX for the past 10 years applying his research to Oil and Gas Field applications.  TRI has been expanding these efforts to now include Ultimate EOR also in Austin, TX which is managed by Matt Dean, formally with Chevron.
Mr. Dean, Dr. Pope and Mr. Trueblood are reviewing numerous shallow oil and gas fields in the lower 48 on which we may conduct EOR operations.
In 2017 we decided to greatly expand these efforts as we see this as an economic niche which can provide a solid ROI for all parties involved.  Our goal is to JV with oil and gas operators who have existing oil and gas fields on which we can apply our technology.
Our group is actively seeking additional opportunities and once we locate a new opportunity at no cost to the operator we will conduct an initial analysis to determine if our processes are applicable.  A work commitment will then be structured for our group to earn a working interest in the property.  
Please contact us should you be interested in working with our group.