Anadarko Basin Oklahoma
The Anadarko Basin Oklahoma Oil Play
Anadarko Basin History and Oil Play
In 1988, after an 8-year history working for Amoco Production Company, John Trueblood formed Trueblood Resources, Inc. During his 8 years at Amoco, John worked numerous areas including Alaska, California (offshore and onshore), Nevada, Oklahoma, Texas and Utah. His last two years at Amoco were spent focusing on the Anadarko Basin. With this experience working a number of sedimentary basins it became clear the Anadarko Basin provided a unique opportunity to apply the exploration and production techniques Amoco had utilized successfully in many oil and gas basins. The Anadarko Basin's stratigraphic column is well suited to allow the serendipity often important in the development of new reserves of oil and gas. This along with landowners principally owning their minerals in fee makes for an attractive business opportunity.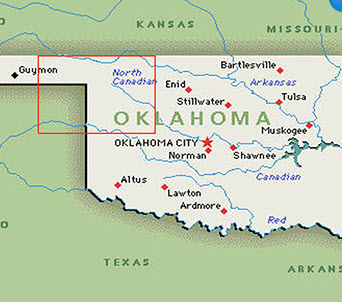 Experienced Anadarko Basin Operator
In 1988 Trueblood Resources became an Anadarko Basin Operator.
The first Anadarko Basin oil producer well, the Moreau Unit #4 encountered a productive Mississippian Age Chester Formation and a second pay section in the Pennsylvanian Age Morrow Formation. The Moreau Unit #4 was drilled on a Farmout from Amoco Production Company. From this early success we began to expand our exploration and production efforts to several Anadarko Basin counties in Northwest Oklahoma. This resulted in the acquisition of thousands of acres of oil and gas leases and many close relationships being established with local Anadarko Basin mineral owners.
Trueblood Resources has significant experience in Anadarko Basin's geology
Trusted relationships with mineral rights holders in the area
Local presence headquarters office in Beaver, OK
History of success for mineral rights negotiations
Experienced Landman personnel familiar with the area
Three decades of detailed geologic data
Anadarko Basin Plays
While at Amoco, Mr. Trueblood was a member of several teams applying Amoco's thoughtful approach to the oil and gas business. The Company was exceptional at gathering data, strategically purchasing oil and gas leases and completing comprehensive geologic evaluations. The projects included detailed analysis of the basin's stratigraphy, a thorough identification of appropriate formation tops and incorporating thousands of oil and gas wells into each study.
Trueblood Resources applies this same strategy as it evaluates the extensive untapped potential of the Anadarko Basin's oil and gas reserves. From our inception we have always employed a mud logger to collect rock data from surface casing to TD. This proprietary rock data has been valuable as we attempt to better understand the overall petroleum system of the Anadarko Basin. The samples are instrumental for a more complete evaluation of the Anadarko Basin's source rock picture and the nuances we encounter as we further our knowledge of Anadarko Basin Geology.
Our Company has always valued the importance of gathering data. Each time we drill and operate an oil and gas well we recognized the unique opportunity to obtain all available information from the well. It may not be readily apparent how critical this one time opportunity becomes until much later, when new ideas and oil and gas plays begin to heat up and the data gives us a competitive advantage.
Anadarko Basin Geologic Data
Trueblood Resources has an extensive geologic data base gathered over its 30 year history of oil and gas operations in the Anadarko Basin. From this numerous technical studies have been completed to better understand the basin's stratigraphy and identify new oil and gas plays. Scalable projects have been solidified and oil and gas leases acquired on a strategic and targeted basis.