Oil and Gas Production Data
Categorizing and Organizing Digital + Mapping Data
Oil & Gas Production Data Analysis
With thousands of wells having been drilled in the Anadarko Basin region, the available subsurface geologic control is immense. As most of these wells are available in digital form, the categorizing and organizing of the data has become far more efficient.
The abundance of data coupled with modern mapping software has made prospect identification more effective.
The Oklahoma Corporation Commission continues to upgrade its collection and dissemination of data allowing the smaller independent oil and gas operators like Trueblood Resources who specialize in copious detail to have ready access to information.
Our work path is in many respects simply an outcome of IT (information technology). Wherein historically we would make operating decisions after reviewing only a handful of wells, oil and gas prospects are now generated often using in excess of 10,000 wells. This still, however, requires the final decision to deploy or not deploy drilling capital to test the idea.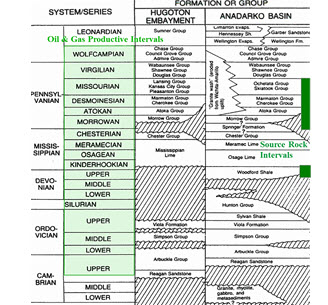 Ultimately this is a decision of how to effectively manage risk.
If properly utilized the immense database can have the benefit of "shortening" the learning curve. Extensive pre-drill evaluation assists in a more thorough analysis of post-drill results, whether successful or unsuccessful. It provides a sound basis on what oil and gas leases to purchase and furthers the prospect of finding acreage which is located in the better part of the oil and gas play.
Detailed Geological, Engineering, and Economic Analysis
It is, therefore, worth the time and expense to conduct this type of detailed geological, engineering and economic analysis using extensive oil and gas production data prevalent and available in the Anadarko Basin.
John Trueblood & Trueblood Resources Anadarko Basin Experts
Why we are successful and have advanced expertise for the Anadarko Basin.
Trueblood Resources decided to focus on the Anadarko Basin for a variety of reasons.  We believe it is geologically underworked.  There is extensive data. Abundant well control and has produced oil and gas since the turn of the century. It remains a "business-friendly" environment to conduct oil and natural gas operations.
Ultimately Trueblood Resources decided to become experts in the Anadarko Basin as we see it as an opportunity, from both a business as well as a technical standpoint, for many years to come, to produce new reserves of oil and natural gas. Although in the last perhaps 25 years there was some question if the basin was too mature and had been overworked, particularly now, with the advent of different technologies, the most durable of which in our opinion is the horizontal drill bit, we believe the Anadarko Basin is going to prove to be extraordinarily valuable for producing energy for this country.
Video with John Trueblood, Trueblood Resources, Inc. and Loren Morgan Mineral Owner Fargo, Oklahoma
Trueblood Resources spends considerable time in the field with our local Mineral Owners.  We want them to have a full appreciation of our technical and operational plans.  Communication, full transparency and a strong partnership remains a hallmark of who we are.